Mailing Labels and Rolodex Cards
To print Mailing Labels and/or Rolodex Cards for members use the Mailing Labels/Rolodex Cards option located under the Reports sub-menu. When you select this option the following screen will appear: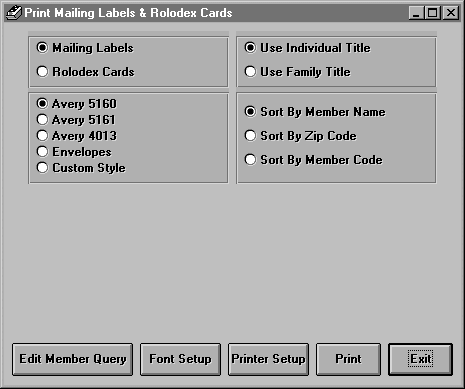 You can print mailing labels in "Avery 5160" (3 across), "Avery 5161" (2 across), or "Avery 4013" (1 across, for matrix printers). The "Custom Style" option to enter your own parameters.
You can print rolodex Cards in "3 * 5" or "2 1/6 * 4" inch cards. You can also select the "Custom Style" option to set your own parameters for Rolodex Cards.
You can use the Individual or Family Title Code in the address on the labels by selecting one of these options.
You may sort the labels/Rolodex cards by Family Code, Zip code, or Member Name.
To select a specific sub-group of members, click the <Edit Member Query> button to enter the criteria members must meet to be included on the labels/rolodex cards. See Build a Query for more information on how to limit the members selected for the labels or rolodex cards.
Click <Print> to print the labels/rolodex cards and click <Exit> to return to the main menu.