Non-Member Notifyee
The "Non-Member Notifyee" option is used to add, update, browse, and delete non-member notifyee information. For instance, if a non-member notifyee changes his/her address, you would edit that on this screen. When you select this option the following screen will appear: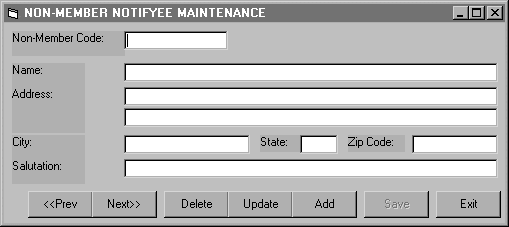 Non-member notifyees are added to this file through the Add Yahrzeit Record Screen.
Type in the non-member's code that you would like to view and click <Enter>. Click <Update> to make any changes in name and address and click <Save> when you have finished.
Click <Delete> if you want to delete this record. Click <Exit> to return to the Main Menu.
Because notifyees may want a different Salutation for different Yahrzeit notifications, changes to the Salutation field must be done through Add Yahrzeit Record. Locate the corresponding Yahrzeit record and highlight the non-member notifyee's code. This brings up a screen like the one above. Click <Update> to make changes to the Salutation and click <Save> when you have finished. Next click on the <Save> button on the lower right of the Browse/Update Yahrzeit Screen. This will save the salutation for this yahrzeit notification only.