Change User Password
There are two ways to change your password.
First, you can access your user account and change your password on that screen. To do this, type SYSTEM as the User ID on the password protected screen. Then type FCC as the Password unless your temple has changed the system password. See User Accounts/System Accounts for more information. You will see a screen that looks like the one below: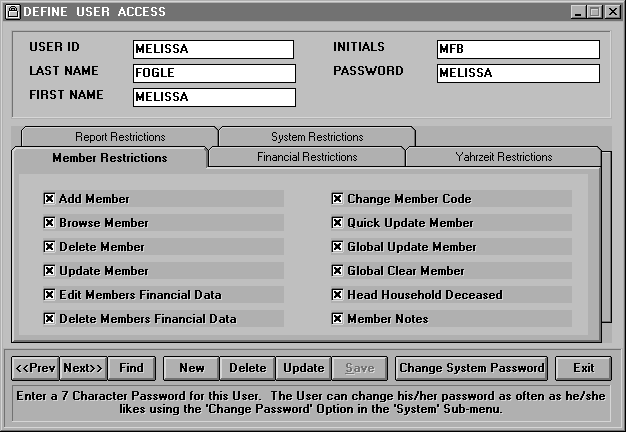 Click the <Prev> and <Next> buttons until you arrive at your User Account. Click <Update> and type in a new password over the old one. Click <Save> then <Exit> to return to the password protected screen. You can now enter your User ID and new password to access TempleTracker.
If you do not know the system password, you can ask the master user to change your password or you can select Change User Password from the System sub-menu. The following screen will appear:

Type in your current password and press <Enter>. Type in your new password and press <Enter>. You will have to type your new password twice for verification.